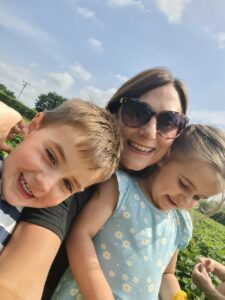 Contributed by Eve Calderbank 
I'm sure everyone has heard of Mum guilt, or those who have kids have experienced it in some shape of form. What I've realised now is that it can take various forms from seemingly small things like do they really need that chocolate bar to the bigger life decisions that ultimately, as a working mum, I have to make.
In the past six months, since starting at ECC, my guilt has taken the form of enjoying working full time again and not spending quite so much time as I did before with my children. To give you some context I came from a previous job where I was working part time but given no actual work to do. In essence my role there ended the day I decided to go and have children, on my return I was treated like a bit of an outcast for only being in the office 3 days a week. Then came lockdown…. So this is where having a job with no actual work actually did me a favour, it meant that when nursery closed, I could spend every waking minute with my 2 and 3 year old, I think you know where this is going… and so my mental health suffered, not only dealing with the anxiety of feeling like a failure at work, but also the mum guilt for NOT wanting to be stuck at home 24/7 with my children. So I made a decision, that it was time for Mummy to go back to work full time and try and re-establish a career that I had spent many years building up.
I realise I am lucky to have family to help out but it was the guilt that these children were going to go from 5 days a week of me to being dished out between family and nursery. Working from home helps, I get to wash their clothes, tidy their rooms and peel the vegetables between zoom calls and I also be around for every drop off and pick up. I feel very lucky that working at ECC sees me surrounded by people who have 'school pick up' time allotted in their work diaries, and who sometimes need to do that Teams call with a child in vision. I'm trying not to feel guilty about the fact that I am loving working full time and getting to use my brain and talk to a whole range of wonderful people about topics other than weening and potty training. My children now get a Mum who cant wait to pick them up at 5pm and read them bedtime stories and looks forward to the weekend. I'm happier, healthier (mentally and physically) and more chilled out and that can only be a good thing for their development. My daughter starts school in September which will bring a whole host of different challenges, but I feel more refreshed and able to deal with that now, even if the mum guilt might kick in when cbeebies gets switched on at 3.30pm.
So in conclusion I'm trying hard not to beat myself up about going back full time, but reflecting that I was lucky to have got to spend so much time with them in their early years, I know not everyone is in the situation to be able to do that. And when I feel that mum guilt creeping in as I sit at my desk, I've just got to remind myself to take the time to be kind to myself (and enjoy the peace) and prepare for the whirlwind that hits home when they return.