Written by Mandy Griffin
16 October 2016. I was insulin dependent T2 diabetic, with Fibromyalgia and CFS. I couldn't walk 500 steps a day without a break. I personally don't do diets. Weight Watchers, Slimming world as well as others - in my experience are focused on weight goals and being in a class. For me that's not what motivates me, but I needed another option as I was close to 26 stone.
Dave Brailsford, former head of UK Cycling talked about 'small marginal gains' – 10g off a tyre, 50g from a helmet that contributed to GB success. The issue with dieting was it was an all or nothing. If the scales didn't move in proportion to my efforts then I'd failed. Holistic changes had to happen for me to get healthier. Stinking thinking had me where I was.
Was I worth me bothering with me? Food was a weapon of self-destruction.  As I challenged my stinking thinking, I looked for those small things I could change. If one thing didn't work it didn't create a train-wreck and have me give up – like every diet I have tried has done.
My top changes – these worked for me
I changed plates and bowls sizes.
I measure portions and the nutritional information carefully. A palm or cupped hand is a portion. Digital kitchen scales a must.
I choose food wisely. Protein is key, ALL food groups are absolutely necessary. Protein helps convert fat to muscle. Carbs are in veggies. Healthy fats needed.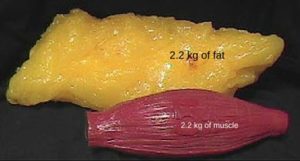 2.2 kg of muscle is smaller in mass than 2.2kg fat. It won't show on the scales but will in dress size!
I eat slowly, protein first. Give the brain and belly a chance to talk. I often use a teaspoon to eat with.
Dehydration inhibits fat loss. If I am feeling thirsty, I am already dehydrated. I don't eat and drink together as this pushes the food through the stomach too quickly and the 'full' signal is missed.
Eating a doughnut is not a failure. But deprivation is the killer of many diets.
Set SMART targets. My first target was to be able to walk my dog around the block without a rest.
I have digital bathroom scales and weigh myself regularly, at the same time. Easier to spot any hormonal issues that can impact the scales.
I asked for help – GP, buddied with someone. I'm accountable.
I hate food marketing. Fat/sugar free – often replace fat with carbs (which are sugars).
Now? As I lost weight my need for insulin reduced, causing more weight loss. That was the impetus I needed. My goal became to reverse my diabetes. As I lost 5 stone my GP referred me to Bariatric Services and at 8 stone lighter, I was approved for weight loss surgery. I am now 13 stone lighter – half the physical woman I was. My self esteem is at its best. Not because I look different, but because I succeeded.  I am worth it.
Best bit? My diabetes is in remission.
Remember: You are more than the number in the back of your pants.